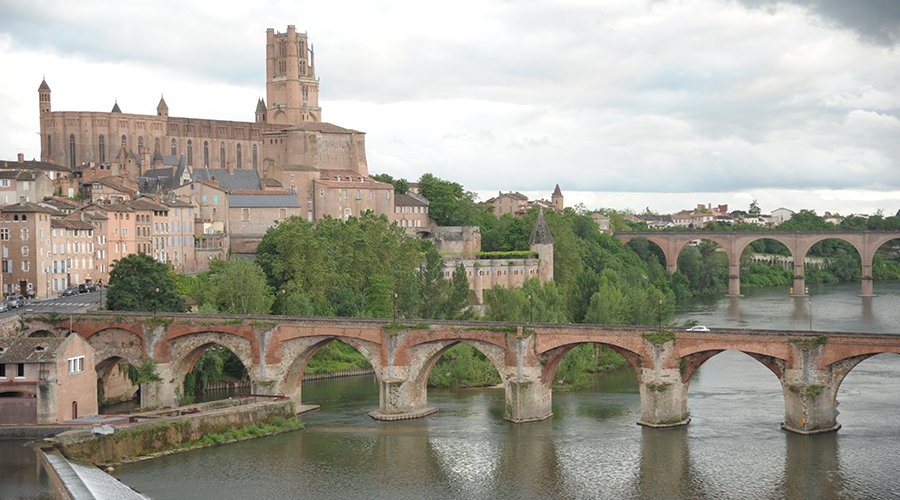 The episcopal city of Albi has been classified as a UNESCO World Heritage Site for its architecture, whose uniqueness lies in its color, power and astonishing harmony.
The Episcopal City was built around two authentic medieval fortresses:
Cathedral of Sainte-Cécile, the largest brick cathedral in the world
Palais de la Berbie: the former episcopal palace which now houses the Toulouse-Lautrec museum, which exhibits the artist's largest public collection in the world.
These beautifully preserved monuments have been included in the cultural heritage of UNESCO as a unique testimony to this type of urban development in Europe from the Middle Ages to modern times.
Example of program:
9h00 am – Meeting at the hotel and departure for the city of Albi
10:00 am – walking tour of the historic center of Albi, with the most important historical monuments and their history.
11:30 am – visit of the exceptionally preserved cathedral with unique frescoes and – a rarity! – its own rood screen!
12:30 p.m. – lunch in a family restaurant in the village
3.30 p.m. – visit of a winegrower from the Gaillac appellation with a tasting of his wine
5.30 p.m. – visit of a medieval village, walk in the medieval streets with Gothic facades
8:30 p.m. – Dinner at the restaurant of one of the best chefs in the region
10:30 p.m. – return to the hotel